Sally & George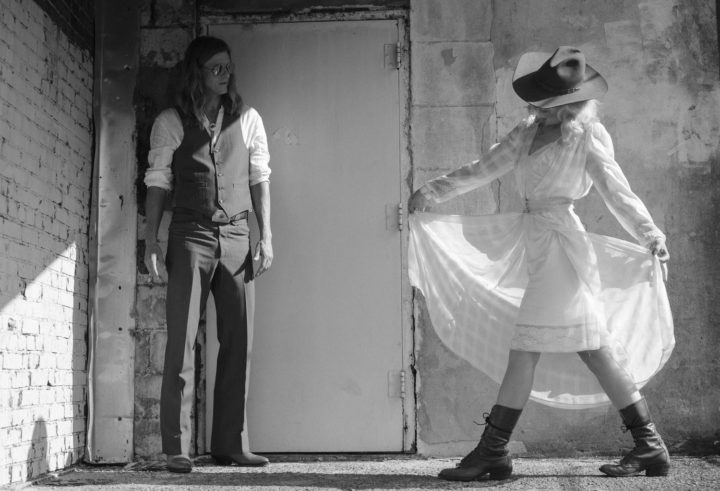 In the town where country music was born–where two states come together on one street–a spark lit and a duo was ignited. At the 2012 Bristol Rhythm and Roots Reunion, on the way to take the stage with his band, Sol Driven Train, guitarist/singer Joel Timmons found himself sidetracked by Della Mae, an all-female, GRAMMY-nominated bluegrass band. It was that group's bass player, Shelby Means, who most captivated his attention. After a conversation at the merchandise table about their shared love of travel and music, two-years passed before Means and Timmons would reconnect. A bold love song led the way, and eventually a growing romance turned into the Nashville-based duo Sally & George and their debut album tip my heart.
 With tip my heart, Sally & George have made an engaging, eclectic debut album. It's a thoughtful meditation on Means' and Timmons' courtship and love (the duo got engaged in July 2016 on a mountain in North Carolina after work on tip my heart was completed). The album deftly moves from rollicking, electrified rockers to stripped down, gauzy reflections on love and faith, to walking bass-led country-indebted duets. All of it is done tastefully, with an earnestness that does not shy away from humor or the occasional cuss word.
 tip my heart came together over the course of two-years, in three chapters. The first chapter began in Laramie, Wyoming at Thanksgiving 2014. Timmons and Means were visiting Means' parents for the holiday. They had four original songs and since the snow was coming down sideways, they enlisted the engineering of a mutual friend and decided to go into the studio. Their intention was to have some fun and experiment recording together. After a day and a half in Thunderground Sound Studio, the duo had five rough mixes and newfound confidence that they could make a great record together. When they were driving to Denver to catch their flight home, they were so excited listening to their roughs that they missed a turn and ended up in Nebraska.
 Chapter two was over a year later in Charleston, SC, at the home studio of Shovels & Rope on Wadmalaw Island. After a busy year, Means and Timmons had gathered enough songs to go back into the studio. Shovels & Rope's Cary Ann Hearst and Michael Trent were old friends of Timmons' in the Charleston music scene. Since Hearst and Trent were taking some time off the road with their new baby, they invited Sally & George to spend a few days recording at Studio Bees. The family atmosphere and the rock and roll edge of Shovels & Rope both found their way into the music that was recorded there.
 Chapter three happened six months later. Sally & George finished things off at Tim Carter's studio just outside of Music City. The casual atmosphere at Tim's cabin studio made Sally & George feel at home and they were able to dig into the final production of tip my heart, they brought in Nashville friends like 10 String Symphony, Langhorne Slim, The Danberrys and more for overdubs and finished the record.
 The title track, "Tip My Heart," is a great example of what makes Sally & George such a potent musical duo. Written by Means when she was still in Della Mae, the song didn't fit into that band's framework. The playful lyrics (with references to Jack and Jill and Humpty Dumpty) are enhanced by Shelby and Joel's glittering harmonies and a fiery electric guitar.
 After their initial meeting at Bristol Rhythm and Roots, Timmons was inspired to write "Pipedream," vividly imagining what it would be like to spend the rest of their lives together. He emailed Means the song and waited an excruciating two weeks for her reply. She finally wrote back, thanking him for the flattery and commenting that it took big balls to send something like that. She also informed him that she already had a boyfriend. When that boyfriend exited the picture a few months later, their romance began.
 "Wild Tiger Style" and "Love Electric" both reflect the duos rock and roll side, with electric guitars and seductive, impassioned vocals. A gauzy, questioning track, "Baby" was inspired by a quote Means heard in yoga class and her time spent rocking a newborn baby to sleep at a plant nursery job. The track came together at Shovels & Rope's studio, with Trent and Hearst's baby blessing the space before tapes were rolling.
 A longtime surfer in Charleston, Timmons' love for Means meant uprooting himself and moving to Nashville. "Nashville Beach" is Timmons' attempt to assuage his ocean heart by imagining life in Nashville as a different kind of wave. "Hey Wow" was Sally & George's first appointment co-write. The duo scheduled a time and met in their living room, channeling the sometimes bawdy duets of John Prine and Iris Dement and the back and forth conversational style of Johnny and June Carter Cash.
 Means and Timmons took on the name Sally & George as a tribute to Means' dapper grandparents. In 2014 Means' grandfather George passed away, leaving an entire ranch house full of vintage clothes, furniture, dishes, and cobwebs for Means' mother to clean out. Knowing her daughter's love of vintage clothes Sherri Means saved Sally and George's hip threads and gifted them to Means and Timmons on Thanksgiving in 2014. This was also the time Means and Timmons began recording Tip my heart, They arrived at the initial sessions at Thunderground Sound Studio wearing Sally & George's clothes.
 After the holiday and back in Nashville, the duo struggled to find a band name that would stick. One night after donning Sally & George's outfits to go out in Nashville, Joel said, "We're stepping out like Sally & George".  Shelby's eyes lit up and she said, "That's it! That's our band name!" Sally & George felt like a natural fit, like slipping into an old pair of your grandpa's jeans.
 Prior to forming Sally & George, Means and Timmons spent time in Della Mae and Sol Driven Train, respectively. Means was nominated for a GRAMMY for Della Mae's this world oft can be, and the band won IBMA's Emerging Artist of the Year. They performed at Bonnaroo, Hardly Strictly Bluegrass, Merlefest, Pickathon and twice at the Grand Ole Opry and were U.S. cultural ambassadors, performing in 20 countries around the world including Brazil, Saudi Arabia, U.A.E., Pakistan, Kazakhstan, Kyrgyzstan, Tajikistan, Turkmenistan, and Uzbekistan. Friends since childhood, the members of Sol Driven Train toured the U.S. for a decade, building a dedicated grassroots following. They independently released 10 albums, including two albums for children.
Sunday, April 9 | Jackson Terminal @ 3:45 PM – 5:00 PM
Sunday, April 9 | Boyd's Jig and Reel @ 7:00 PM – 8:00 PM