Ruby Amanfu + Steelism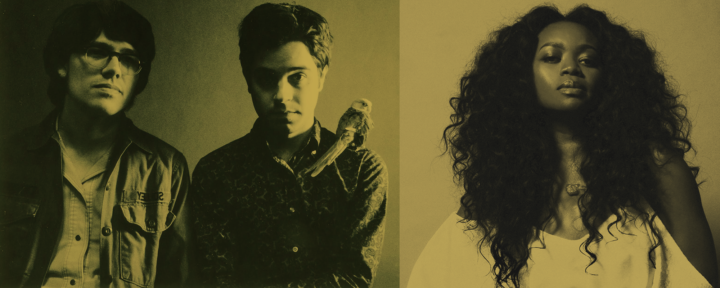 Rhythm N' Blooms is excited to announce a special collaboration between Ruby Amanfu + Steelism!
Ruby Amanfu
Whether on Beyonce's new album Lemonade, or singing her own songs, Ghana-born and Nashville-based singer/songwriter Ruby Amanfu's voice is one you only have to hear once to remember forever. Not an artist to be pegged, Amanfu's musical style knows no boundaries. After attending Berklee College of Music, Amanfu found herself in Scandinavia and London, where she released her first solo album, Smoke & Honey (Polydor/Murlyn/Interscope) in 2003, whose chart-topping single "Sugah" reached #3 on Billboard's air play charts. After an extended period overseas, Ruby returned home to Nashville and focused her attention on songwriting. Her songs have been cut by a variety of acts both in America and Europe including Kelly Clarkson, Lene Nystrom, Sanne Salomonsen, Rachael Lampa, and The Duhks. She also became part of the critically acclaimed duo, Sam & Ruby w/ Sam Brooker. In 2007, Amanfu earned Grammy recognition for "Heaven's My Home" by way of the Canadian band, The Duhks, which she co-wrote with Katie Herzig. The following year, Sam & Ruby's own recording of the song was also featured in a pivotal scene in the much-anticipated film adaptation of the New York Times' best-seller, "The Secret Life of Bees," while Sam & Ruby's Rykodisc-released 2009 album, The Here & The Now was named the #1 Album of the Year by the Associated Press. Amanfu has always been inspired by the art of collaboration. Most recently, her powerful vocals infused Beyonce's track, "Don't Hurt Yourself" from the album, Lemonade. She has also lent her vocals to Jack White, most recognizably on his debut single, "Love Interruption" as well as throughout both of his solo albums, Blunderbuss and Lazaretto. Recordings of Ruby with such other artists as Brittany Howard (Alabama Shakes), Sara Bareilles, Ben Folds and Hozier can be heard throughout the airwaves and on YouTube. For Amanfu's most recent solo album, Standing Still (August 28, 2015; Thirty Tigers/Rival & Co.) she put the pen mostly to rest and instead interpreted songs of other writers ranging from Brandi Carlile to Woody Guthrie to Kanye West As a performer, Amanfu has traveled far and wide, from Rockefeller Plaza in New York City appearing twice on Saturday Night Live, to Fuji Rock Festival in Tokyo, Japan. Five record deals and two publishing deals later, Ruby is enjoying creative freedom as she prepares for the release of her next solo album, co-written and produced by Ryan Adams. She is ever inspired and grateful for the abundant opportunities she has been given to continue to create and inspire through music. In her down time, Ruby is an aspiring chef.
Steelism
Guitarist, Jeremy Fetzer, hailing from Canton, OH, and pedal steel player, Spencer Cullum, from Essex, England first met while touring the U.K. with Nashville songstress, Caitlin Rose. Quickly realizing they were cut from the same cloth, bonding over a shared love for classic film score composers like Ennio Morricone and '60s instrumental acts like Booker T. and the M.G.s, The Ventures and Pete Drake, the duo formed Steelism while writing between sound checks. In September 2014, Steelism released their debut full length, 615 to FAME, which was met with critical acclaim from outlets like 
NPR
, 
Rolling Stone Country
 and more. The record, featuring ten original instrumentals and one cover, became a calling card for the band's versatile yet distinct sound that opened up new collaborative opportunities for both Fetzer and Cullum as individuals and for Steelism as an entity.
Prior to the release of 615 to FAME, Steelism had already backed Wanda Jackson, Jonny Fritz, Rayland Baxter, Andrew Combs and others together. Since then, they've appeared on NPR's Mountain Stage and played major festivals including Austin City Limits & Hangout Fest. Additionally, they performed as the house band for the inaugural celebration announcing the establishment of 
NPR's World Cafe Nashville
 as well as 
American Songwriter's 30th Anniversary Party
.
Since November, they've been in the studio working on the follow up to 615 to FAME which is expected to be released later this year.
Sunday, April 9 | Cripple Creek Stage @ 4:15 PM – 5:45 PM