Rhythm N' Blooms Green Team
#RnBGreen
Sustainability Statement
Rhythm N' Blooms has a long history of environmental initiatives. We are continuing to build our reputation as Knoxville's greenest festival. We believe that in celebrating music and art, we can also do our part in celebrating the earth. This year we will be introducing new sustainability initiatives in order to reduce our environmental impacts as a festival as well as educate and inspire festival goers to go green as well. Below you will see some of the steps we are taking to RnBGreen!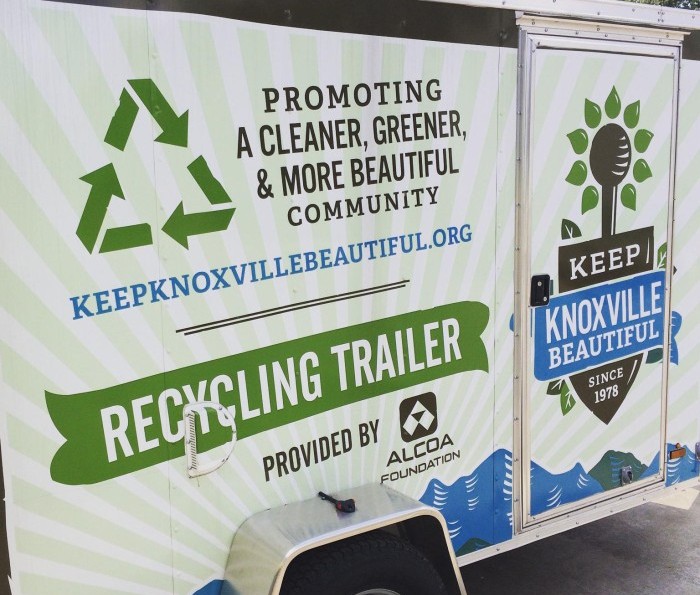 Waste Diversion
Recycle!
We are teaming up with Fox & Fogarty,the City of Knoxville recycling program and Keep Knoxville Beautiful to introduce an even larger recycling service to this year's festival! Recycling will be available along Jackson Avenue and throughout the outside venues (select indoor venues may also offer recycling independently). If you are not sure about what can be recycled, keep an eye out for one of our Green Team volunteers!
Reuse!
Buy and reuse RnB reusable pint glass and get a discount on refills! Not only do you get an awesome souvenir but you'll be helping in reusing the amount of waste the festival creates!
Get Caught Green Handed!
Snap some instagram photos of your recycling efforts at Rhythm N' Blooms and earn awesome RnB prizes for keeping Knoxville green! Each day during the festival we will be rewarding the most creative recycling photos by giving away, shirts, stickers and other great festival merchandise. We will also pick one winner each day for a VIP upgrade! So start snapping and include #RnBGreen in all your Instagram Posts! For more info and rules visit the official contest page here: http://www.rhythmnbloomsfest.com/get-caught-green-handed-instagram-contest/
Sustainable Travel
Bike or Walk
Or scooter, skateboard or rollerblade to the festival. There are plenty of green ways for you get get to the festival! Bikers get the very best parking with bike racks in The Old City Courtyard in the middle of the festival footprint.
KAT Bus & Trolley
Utilize the city's awesome public transportation by taking the bus! The downtown station is only a 10 minute walk from the festival and several routes have stops even closer. The Gay Street Trolley is free and has a stop only one block from the festival. For more information on KAT buses and to find the best route for you to use to get to RnB, check out their website.
Carpool
If you are unable to take sustainable transportation and we encourage you to carpool to the festival. And if you would like to offset your travel emissions, you can check out travel offset sites such as Smart Trips.
Get Involved
Volunteer
We could not make RnB green without volunteers. Volunteers will help collect recycling, pick up litter around the festival, help fans properly dispose of waste! For each four hour shift of volunteering, you will receive a one day festival pass! Sign up to volunteer with RnBGreen by filling out the form. Be sure to check the Green Team box!
Connect
Follow us on Instagram, Facebook, and Twitter with the hashtags #RnBGreen and #RnBRecycles! We will be posting about contests, updates and sharing green festival tips!
Team Green is brought to you By: