Nora Jane Struthers & The Party Line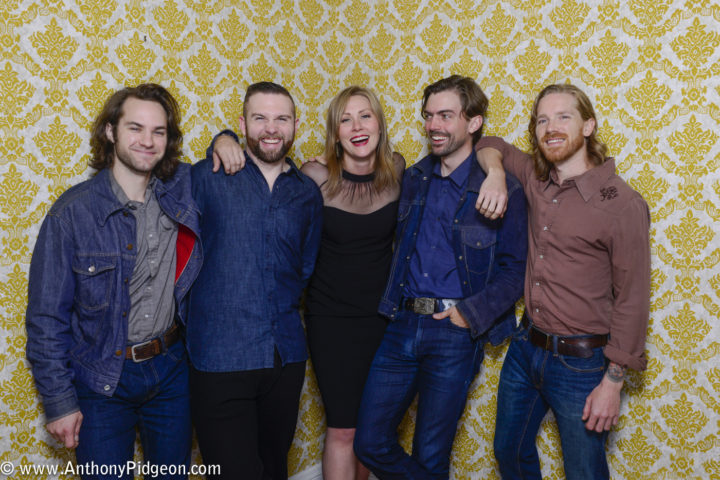 I am living in a dream when I wake
You are my bright shining star you guide the way . .
Wake. The evocative one-word title speaks volumes about what's happening on Nora Jane Struthers' latest album. For the thirty-year old singer-songwriter, it's "wake" in several senses of the word. There's the trail of a life and career behind her, the slipstream of lessons learned. There's the quiet observance and letting go of who she has been up until now as both an artist and a person. And most of all, there's the stirring of something new, an opening of a door and wide-eyed rush forward into a place of discovery and dizzying possibilities. And it's all set to a soundtrack that resonates with the warm uplift of the first day of spring.
In short, Nora Jane Struthers has fallen in love.
"The whole album is about strength through vulnerability," she says. "That's what I've come to as an artist, and a human being, and I think it's the most powerful force in my life. I feel so much more like my childhood self now than I did over the past five years, than I have in my whole adult life. In my twenties, I had a tendency to compartmentalize pieces of my musical identity. For instance, how could I reconcile my love of both bluegrass and Pearl Jam? I did the same thing in my personal life, where I had this sort of idea of who I wanted to be, and ignored all these other pieces of myself, because I didn't think they fit into some imagined big picture.
"But this experience of falling in love blew that whole thing apart," she continues. "Looking back, my previous two albums feel so safe. They had literary merit, contributing to the traditional canon in a way that I was proud of. But it all felt masked by these narratives that were not directly my own. These new songs are autobiographical. I'm looking inward, allowing that to be what my art is. To take away the narrative safety net and then the sonic safety net and just give myself over to my own story and my own feelings, was scary but exhilarating."
That exhilaration courses through the whole album, with an unmoored feeling that reminds us that the gravitational direction of finding love is as much about rising as it is falling. Opener "The Same Road" percolates along with percussive banjo and side-stick then lifts into a panoramic chorus, while "Dreamin,'" soaked in classic Bakersfield good vibes, threads its infectious charm through with chugging train rhythms, twangy guitar and pedal steel. "When I Wake" is pure harmony bliss, with Struthers and Joe Overton echoing early '70s Gram & Emmylou. "The Wire" shimmers with poetic reflection ("The truth is I didn't see the wire until I saw the bird") and the radio-ready "Lovin' You" pulls off the three-and-a-half minute miracle, with Struthers' warm, engaging alto finding fresh imagery like, "If I was a crocus lovin' you would be the spring / If I was an eagle lovin' you would be my wings . ." Other highlights include the fiery slide-guitar powered "I Ain't Holdin' Back," the call-and-response, southern-fried "Don't Care" and the hushed, split-rail tenderness of "The South." The whole record, a 53-minute celebration of that heart-to-heart, flesh-to-flesh connection that reminds us we're alive, also feels like a major artistic arrival.
Struthers' ascent to this new plateau has been a steady one. Born in Virginia and raised in New Jersey, she began playing as a pre-teen. attending festivals and fiddlers' conventions around the south with her banjo-playing father. "These were pretty much just a group of musicians camping in a muddy field for a week, playing tunes and singing songs," she recalls. "But these traditional music communities greatly influenced me and informed my decision later to move to Nashville and try to become a professional musician." After graduating from NYU with an education degree, she taught high school English in Brooklyn and put her music career on the back burner. But a visit to the Telluride Bluegrass Festival in the early 2000s changed that. Watching one of her heroes, Tim O'Brien, she stood in front of the stage, glanced back at the crowd and the mountains and thought, "This is what I want to do." There followed that move to Nashville, much woodshedding as a writer and touring, with Bearfoot, and her first solo-fronted group, the Bootleggers (who won the 2008 Telluride band competition). Along the way, she worked with bluegrass stars like O'Brien, Stuart Duncan and Bryan Sutton, and released two critically-acclaimed albums. But it was in 2012, when Struthers formed the Party Line, that everything started to come into sharper focus.
She says, "With the Party Line, I found the people I want to be with. And what instruments they play are what my band became. So I didn't find a fiddle player. I found a great electric guitar player who I love hanging around with, and who wants to commit to my music. What I love about our instrumentation is the balance between rock 'n' roll vibe and old time acoustic feeling. Those two specifically are the balance between my guitarist Josh Vana and Joe Overton. Josh plays with more of a rock feeling. Joe runs what I call the roots utility. He plays open backed banjo, resonator banjo, fiddle and pedal steel guitar. It's a really interesting balance between roots and rock. I don't know a lot of other female-fronted bands that are doing quite what we're doing, so I feel like maybe we have something unique, which is always a good thing."
Having the right band also led Struthers to realize that she wanted to change her approach to record-making. "My last album Carnival took a step away from certain aspects of the digital, highly-produced approach. There's no auto-tuning. I made it with the band, not session players. But the songs weren't road-tested, so we put the arrangements together in the studio. After touring that record and seeing how the songs evolved as a result of playing them for audiences, I just knew that I wanted to make the next record after road-testing the material and allowing it to grow."
Inspired by what she calls the "grit and vibe" of recent favorite albums by Hayes Carll and Jason Isbell, she and the band hunkered down in the Bomb Shelter studio in Nashville, with Struthers taking on the daunting first-time challenge of self-producing.
"Oh my gosh, it was exhausting, and I'm never doing it again" she says with a laugh. "I've made several albums so I have a basic knowledge of how to work with people in the studio. I really wanted to capture performances. And the biggest challenge as producer was getting everybody, including myself, to step out from their individual parts and listen to the whole. And say, "Maybe you didn't play that drum fill the way you wanted to play it. But listen to the whole song, and isn't it great?" That's what we kept coming back to. We could zoom in as much as we want, but when you really zoom out, isn't this great?' That being said, it ending up being harder than I imagined to be the artist and producer at the same time. If only because when you're trying to save your voice for singing, talking to your band members can just be vocally taxing."
The end result was worth it. And the Party Line comes across as a classic example of the model supporting band, a la the Heartbreakers or the Cardinals. Nobody overplays. The pieces always fit. Overton, Vana and bassist Brian Duncan Miller and drummer Drew Lawhorn all get their moments to shine, but their tasteful parts are first and foremost in service of the song.
Struthers affirms, "When I got the test pressing and listened to it, I just cried and laughed my way through the record. It was the most beautiful experience to see that black vinyl spinning and think, 'Wow, so much went into the making of this record, and we did it!' That's a beautiful place to be living before a record comes out."
As she looks ahead to a busy 2015 of touring and promoting Wake, Struthers says she's "ready to go for it." With a strong team around her, both business and street (she's been very successful with Kickstarter fan-funding), she pauses to reflect on what she hopes this record might mean to her listeners. "I try to put myself out there and be vulnerable and trust that what people give me back is loving. I hope that people listen to these songs and are given some courage to take a risk, be vulnerable and brave, allow themselves to embrace imperfection. And I hope that that has a positive influence on the way that they are able to lead their lives and interact with people that they love."
Friday, April 7 | Cripple Creek Stage @ 5:00 PM – 6:15 PM
Friday, April 7 | Jackson Terminal @ 10:15 PM – 11:45 PM
Saturday, April 8 | Barley's @ 10:00 PM – 11:15 PM