Musician's Corner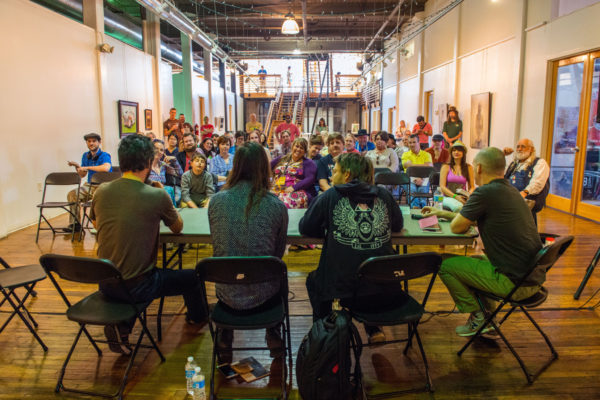 The Musician's Corner is back! This free feature of the festival provides educational and informative programming by way of panels and talks from artists, experts, and community leaders. Discussions cover a range of topics from community building to the ins and outs of the music industry.
Musician's Corner will take place at Awaken Coffee (125 W. Jackson Avenue) on Saturday, May 18th.
10:30AM: Cover Your Ass: Finance, Legal and Insurance
Sure, you know how to play music … but do you know how to protect your small business? It can be hard to navigate the financial, legal and insurance needs of a touring musician. In fact, some insurance agencies won't even cover you! Make sure you know how to CYA when it comes to things like taxes, commissions, band member agreements, venue contracts, liability insurance, auto insurance for a vehicle that's covering your whole band, and how to protect yourself when someone steals your gear or refuses to pay you for a gig. Panelists Adrienne Webster (a CPA), Beth Townsend (a lawyer) and Ashley Cate (an insurance agent) all have experience dealing with entertainment clients and are ready and willing to share their tips with you!
11:45AM: Self-Booking for the Indie Artist
How do you get a venue to book you? What's a door deal? When can you ask for a guarantee, and how much should you be getting paid? How many times should you follow up before you just GIVE up? And how do you route a real tour, anyway? Self-booking is one of the biggest stress points for independent musicians. But never fear, we're here to help! Independent artist Scott Hinds of the Royal Hounds self-books his band internationally, Berndette West has booked thousands of acts at her venues Preservation Pub and Scruffy City Hall (among others), and Chris Rusk wears the hat of both a self-booking indie artist AND a professional booking agent with a roster that includes acts like Sarah Shook & The Disarmers and many more. This expert team can help guide you toward success!
1:00PM: Artist Branding: Developing Your Elevator Pitch
What kind of music do you play? It's a simple enough question, but often it seems so difficult to answer. How do you describe the unique sound you've created without rambling on and on, naming all of your influences, and leaving the questioner even more confused than before you began your answer? In this hands-on workshop, you'll create a brief "elevator pitch" – a quick, detailed description that immediately lets people know what to expect when they hear your music. Steven Friedlander, an editor and writer for more than three decades for numerous publications, will help you pull all of your ideas together into a cohesive and compelling statement that will help you promote your music more effectively and with far less stress.