Handsome & The Humbles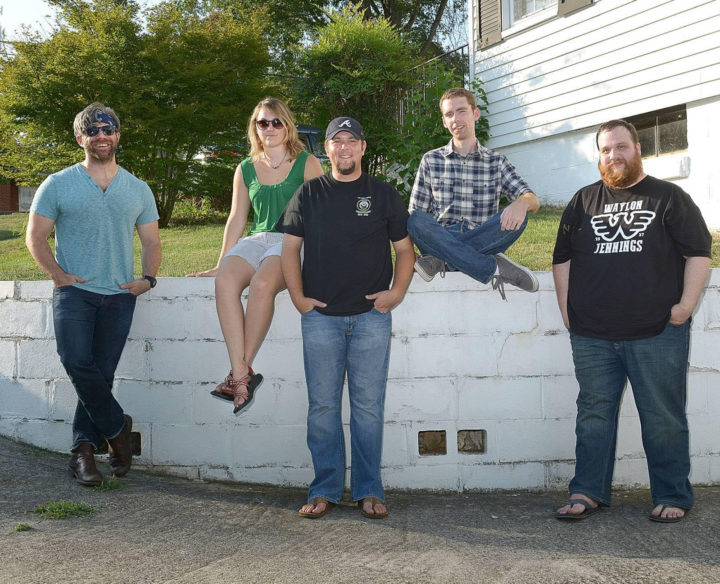 When it comes to Handsome & The Humbles, appearances can be deceiving. Frontman Josh Smith is living proof.
On the surface, he's ruggedly handsome and athletically built, traits that come in handy for his day job as a physical therapist assistant. He's easygoing, quick with a grin and the seeming epitome of the young American man in 2016, with a good job and a pretty young wife and an Americana band that can knock the occasional Ryan Adams cover out of the park.
Like the collection of songs on his band's new album, however, you need only look (and listen) a little closer to discover not-so-obvious truths beneath the surface.
There's a weariness of the spirit etched into the lines around his eyes, the marks of a man who's spent long nights staring out a window at the dark landscape with a guitar in hand, ruminating on his own past and those of friends. They're the eyes of a songwriter who's seen trouble and strife but still believes in the better angels of humanity's nature.
He sees a darkness, as the Bonnie "Prince" Billy song goes, but he also sees the light of the coming dawn, and he tries awful damn hard to chronicle both as the songwriter for Handsome & The Humbles.
"The darker stuff, I've always related pretty well," he says. "Music, movies — the ones I like are always sadder or darker."
Raised in Clinton, Tenn. — a small Southern town just north of Knoxville — Smith was active in church and school activities and got involved in playing music as a teen, first as a bass player for a Christian group. Faith, incidentally, led him first toward the ministry: He started attending church to meet girls, he says with a laugh, but over time, he began to find solace and comfort in religious dogma, and after high school he attended a religious-based college, where his political and social opinions began to skew conservative.   When he realized just how much he had changed — after college, working for a small-town church that sought to exile his co-worker and former college roommate, who happened to be gay — his eyes were opened.
"It just occurred to me that everything I'd been taught, everything I was repeating without thinking about it, wasn't really what I believed," he says. "Deep down, I knew that these certain things weren't right. I knew this wasn't the way to treat people. I started to wake up, I guess you could say."
Faced with such a life-changing revelation — that all he knew to be true perhaps was not, that the career path on which he was walking might be the wrong one, that the values he held dear were a thin veneer layered over his true self — he turned to the only thing in his life that seemed without pretense: music.
He began to write, drawing on the North Carolina alt-country sadness that passes for currency in the music of Ryan Adams, combining it with the sweet melancholy of The Jayhawks. He began to see his hometown, his home region, for what it really is — a placed of rugged and breathtaking natural beauty, populated by men and women who have been defined by hard times and difficult circumstances, and he began to find a purpose in the telling of their stories.
"When I started writing songs, I thought, 'I'd like to tell some stories, too. I'd like to be a part of the culture in this area.' And that's what started this all," he says.
It was serendipity that two other East Tennessee musicians — Tyler Huff, and Jason Chambers of fellow Clinton-based Americana ensemble The Hotshot Freight Train — were looking to start a Ryan Adams cover band around the same time; Smith ended up calling Huff for help fleshing out some of his original music, and soon Smith was invited into the fold. The cover band idea was ditched in favor of Smith's songs, and the band's name came out of a brainstorming session to find an appropriate moniker.
"We did this thing where we just spouted off rather idiotic band names, and some were quite filthy to be honest," Smith says with a chuckle. "I think one day, I made a joke and said something like, 'Well, I am handsome, and I'm humble,' and one of the guys shouted, 'Handsome and The Humbles!' That's the one we kept coming back to, even though I thought some of the filthy names were better."
As serious as the music might be, there's a lighter side to the ensemble as well, a charm that's won them fans ever since they began gigging around Knoxville and released an EP in the fall of 2014, a beautifully ragged collection of Americana that earned them local radio airplay. It was an ideal primer for "Have Mercy," the band's first official full-length.
"I feel like this new album is darker than the EP was," Smith says of the band's forthcoming full-length, due out April 16. "I've written about stories I've heard and people I know, and it feels like a lot of this record came from a song called 'Have Mercy,' which is about trying to do good, but realizing that maybe you're going about it the wrong way."
"Have Mercy" is a well-worn road map of familiar territory, creased and folded and marked up with places of special significance. The loping country of the album opener, "Hard Times … "Knoxville Lights," a powerful, swaggering dirge of longing, the sound of a man behind the wheel of a car pointed west and carrying him over Carolina mountains, not sure of what he's going to find when he gets there but feeling the undeniable pull of the place he knows as home … the title track, an acoustic gospel number that's the soundtrack to man's metaphysical contemplations on the sun-dappled banks of a river — there's a warmth and beauty to these 13 songs that speaks of a desperation for understanding, a soul-deep ache to belong, that can only come from the hearts of musicians who believe that hope is something worth championing.
Because, in the darkest of times, it's often the only thing left to cling to. There's plenty of those on "Have Mercy" — the song "Burn" tells the story of a ne'er-do-well who's shot in the back after robbing a liquor store, and the haunting banjo intro to "The Ballad of Rose Thompson" marks it as an ancestor of Appalachian murder ballads from days gone by. And then there's the elegy of "True Believer," in which the recently deceased speaks from beyond the grave to give both direction and solace to those he left behind. It's one of several high points on a record that heralds a spectacular new voice in East Tennessee roots rock, one that's been around for a minute but is poised for bigger things with "Have Mercy."
–Steve Wildsmith, The Daily Times
Friday, April 7 | Pilot Light @ 6:00 PM – 7:00 PM
Saturday, April 8 | Barley's @ 11:30 PM – 12:45 AM
Sunday, April 9 | Boyd's Jig and Reel @ 5:30 PM – 6:30 PM