Dogwood Arts Student Guitar Design Contest
Exciting Opportunity For Youth Artists To Customize Guitars With Original Artwork!
(Application Deadline – January 11, 2019)
Dogwood Arts and the Songbirds Foundation are proud to announce the 2019 Epiphone Guitar Design Contest. The contest is open to all high school and middle school students living in East Tennessee. 15 Guitar designs created by youth artists will be selected for implementation and exhibition. The art guitars will be displayed at the Songbirds Museum, a one-of-a-kind guitar museum located in Chattanooga, Tennessee, and the Rhythm N' Blooms Music Festival in Knoxville, Tennessee. The guitars will be auctioned online to benefit Dogwood Arts and the Songbirds Foundation's youth art programs.
15 winning student designers will receive $50 art supply stipends and weekend tickets to our family-friendly Rhythm N' Blooms Music Festival. Additional cash prizes totaling $1,000 will be awarded to participating artists!
Guitar Design Contest Application & Template – Click Here
HOW TO BE A GUITAR ARTIST
1. Students create their own unique guitar art on the guitar template attached to this form (also available online).
2. Students give the template and application form back to the art educator (teacher, artist, or parent).
3. Art educators send the guitar designs and completed applications to Dogwood Arts by January 11, 2019.
4. Winning designs will be selected by January 15, 2019, and art educators will be notified by email.
5. Epiphone guitars will be delivered to art educators January 15 – 22, 2019.
6. The Art Guitars need to be completed by March 26, 2019.
7. Contest coordinators will manage guitar pick up or drop off with the art educator.
8. Guitars will be displayed at the Songbirds Museum April 1 – 30, 2019.
9. Guitars will be displayed at Dogwood Arts Gallery May 1 – May 16, 2019.
10. Auction will conclude during Rhythm N' Blooms May 17 – 19, 2019.
CONTEST REQUIREMENTS
• Students must be in High School or Middle School.
• Students must live or attend school in the Knoxville or Chattanooga Tennessee region.
• Schools may establish a coordinator for this event, or a single art educator may apply on behalf of a student(s).
• Designs must be made on the provided guitar template, also available at dogwoodarts.com/guitar-contest.
• Completed Application Form must be submitted with the guitar design.
• Applications will not be accepted if the form is not signed by the student, parent, and/or educator.
• One guitar will be supplied to each winning designer.
• The design can cover the entire guitar except its pic guard, head, and any Epiphone logos.
• The guitar hardware is not to be altered, and the finished guitar must remain functional.
QUESTIONS? CONTACT US!
Email kcreason@dogwoodarts.com or Call 865.637.4561
Applications with guitar designs need to be mailed to Dogwood Arts by January 11, 2019.
Dogwood Arts – 123 W Jackson Ave Knoxville, TN 37902
ABOUT OUR PARTNERS –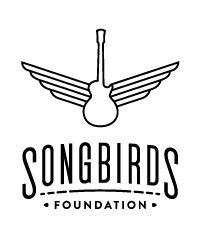 The Songbirds Foundation shares the transformative experience of music with the Chattanooga area by delivering educational programming, preserving music history, hosting enriching events, and providing concrete resources to emerging artists. This year 425 students will join the program through a new partnership within the school system. For additional information about Songbirds Foundation
The Songbirds Guitar Museum is a guitar-oriented, pop culture experience for the whole family located on the campus of the world-famous Chattanooga Choo Choo. Explore a collection of rare, vintage guitars like no other on Earth. Experience American history in a new and unique environment through the Songbirds Guitars extensive anthology of permanent and revolving exhibits. For additional information about Songbirds Guitar Museum