My Brightest Diamond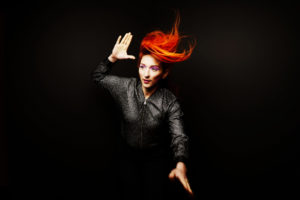 Not many people can front a rock band, sing Górecki's Third Symphony, lead a marching band processional down the streets of the Sundance film festival and perform in a baroque opera of their own composing all in a month's time. But Shara Nova can.
Her multi faceted career as My Brightest Diamond, which began with an acclaimed independent rock record, has reflected her journey into the world of performing arts.
Born in diamond rich Arkansas and then raised all around the country, Nova came from a musical family of traveling evangelists. She went on to study operatic voice and then classical composition after a move to New York City. Shara began issuing recordings as My Brightest Diamond in 2006, following a protean period in the band AwRY, and joined Sufjan Stevens' Illinoisemakers live ensemble. Asthmatic Kitty Records released her debut album, Bring Me The Workhorse in 2006, A Thousand Sharks' Teeth in 2008, All Things Will Unwind in 2011, which featured songs written for the chamber ensemble yMusic, and This is My Hand in 2014.
In 2018, Nova will release A Million and One, co-produced with The Twilite Tone (Gorillaz, Kanye West, Common, Kendrick Lamar). The album features contributions from Earl Harvin (Air, Tindersticks, The The) and Vincent Taurelle (Air, Tony Allen, Nicolas Godin, Françoise Hardy).
Shara Nova (formerly Shara Worden) continues to prolifically weave her way through both the experimental pop and classical worlds, composing, collaborating and sharing stages with Sarah Kirkland Snider, The National, Caroline Shaw and Roomful of Teeth, Andrew Bird, A Far Cry, So Percussion, the Detroit Symphony Orchestra, Glenn Kotche, Claire Chase, Bon Iver, and the Brooklyn Youth Chorus. Highlights include singing in Laurie Anderson's 2008 show "Homeland," delivering guest vocals on The Decemberists' 2009 Hazards of Love album and subsequently joining them on tour, performing in Bryce and Aaron Dessner's multimedia presentation "The Long Count," singing and recording for Pulitzer Prize winning composer David Lang and singing in Sarah Kirkland Snider's "Penelope" and "Unremembered." Shara has also worked with David Byrne (on his concept musical "Here Lies Love"), Fat Boy Slim, Bon Iver and The Blind Boys of Alabama.