Artist To Watch: Shayla McDaniels
Monday, March 6th, 2017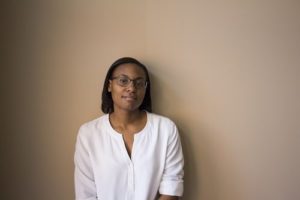 Rhythm N' Blooms 2017 is shaping up to have a lineup that rivals those of years past. I am anticipating the Rhythm N' Blooms debut of one of my favorite local artist: Shayla McDaniel
Shayla is a singer-songwriter that seamlessly blends jazz and alternative pop, playing multiple instruments including bass, acoustic guitar, and piano. McDaniel was featured as a guest on my WUTK 90.3 FM's Gold Standard Hip-Hop Show where I, and listeners, got to know a fantastic person with great energy. She has hit the scene hard with local performances where she lets her passion shine through and her live on-air performance was nothing short of amazing, I can't wait to see her hit the stage and give off that same vibe to the audience.
"I'm super excited to be performing at Rhythm N' Blooms!!   It's one of my dreams come true!" Says the 25 year old McDaniels. "My band will be playing with me. That will be a lot of fun, and we'll be playing some songs from the new record "26 Letters" too."
Along with performing, the Knoxville artist is also looking forward to enjoying the other performances. "I'm looking forward to hearing a lot of the other bands. It's a really solid lineup with a good mix of flavors. One band that I'm eager to see is Lee Fields and the Expressions."  I could not agree more with Shayla.  Shayla will be accompanied on the line up by other local bands such as William Wild, Cruz Contreras, and more.
For those wanting to check Shayla out before R&B she performs March 3 as part of the From the Living Room songwriter's showcase at Barleys.  March 11 she shares her talent at Scruffy City Hall as part of the Women in Jazz Jam Festival.
The Rhythm and Blooms Music Festival takes place rain or shine April 7-9 in Knoxville, TN and promises to be a weekend of awe-inspiring music and creativity.
To keep up with Shayla follow her on social media at @shaylamcdaniel and visit her website at www.shaylamcdaniel.com. You can also find her music on Spotify and Itunes.
-Marcus A. Carmon
---