Artist To Watch | The Pinklets
Tuesday, March 7th, 2017
Presented By: Wayne Bledsoe, Go Knoxville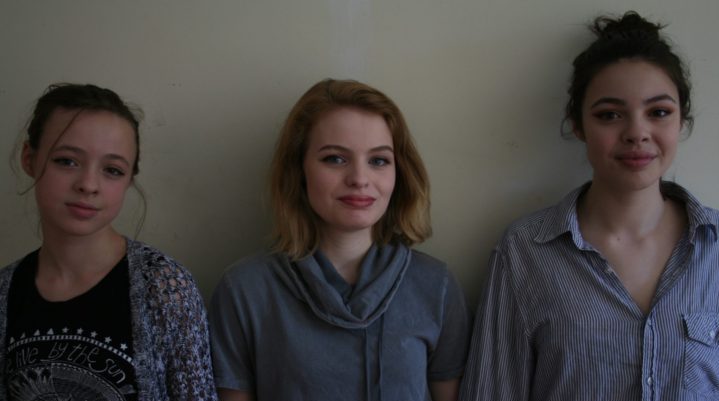 The first reaction people have when The Pinklets start playing is to smile.
How could you not?
The Abernathy sisters, Lucy, 14, Roxie, 16, and Eliza, 12, seem like a force of nature and no one is quite prepared for it. The Pinklets' songs are smart, concise, catchy and honest. The sisters command the stage with a combination of confidence and goodwill and they're devoid of any TV-talent-show schmaltz. These girls know how to rock and there's nothing phony about it.
Great artists know how to communicate and it doesn't matter if you're planning for your junior prom in high school or asking for your senior discount at the Golden Corral, The Pinklets connect.
I first heard lead singer/guitarist Lucy sing an original song when she was 10 years old. Typically when a kid that age writes a song it's about something they haven't really experienced yet. Lucy, though, wrote about what she was going through at 10 with the skill of an experienced adult songwriter.
The Pinklets started at about that same time with all the seriousness that kids start anything with, but as the sisters got better at their instruments and Knoxville musical greats started shaking their heads over how good the girls were, it became pretty obvious that this was no kid's goof.
Ashley Capps, co-founder of Bonnaroo, saw The Pinklets at Waynestock in 2016 and booked them for Bonnaroo that summer.  The crowd loved them, but the Abernathy sisters didn't let it go to their heads. They just kept working.
Every time I see The Pinklets they get better. When I had them on my live radio show "The WDVX 6 O'Clock Swerve" in the fall of 2016 I was amazed at how intuitive Roxie's keyboard work had become and the nuance and skill that Eliza had developed on the drums  in just a few short months. In addition, the sound had become much richer with Roxie and Eliza now adding vocals.
As good as The Pinklets are now, I can't imagine what they might become. The band's debut album will be released this spring. Better catch them in town while you can.
– Wayne Bledsoe 
---