5 Old City Food Spots To Check Out Between Bands
Friday, March 25th, 2016
Rhythm N' Blooms is right around the corner. If you are making your plans be sure to know the best spots to grab the food during the weekend. Our main stage is filled with an amazing variety of food trucks and those are sure to fix your hunger during the music. If you do find yourself wandering through the old city between sets, here are some food options you might want to check out.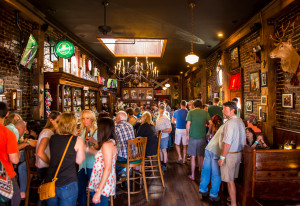 The great thing about Boyd's is you can grab some amazing food and you don't have to miss any music. Boyd's Jig & Reel is both a great spot for lunch or dinner and also a music venue for Rhythm N' Blooms. Stop in and grab a Highland Burger or their tasty fish & chips while enjoying your favorite artist from Rhythm N' Blooms. They also have one of the largest scotch & whisky lists in Knoxville. It's so large, they have a giant book filled with options. If you are a Scotch or & whisky fan, you can't afford to miss this spot.
They say breakfast is the most important meal of the day. If that's true then there is no better place to start your morning at Rhythm N' Blooms than Oli Bea. They only use local and fresh ingredients and with a seasonal menu, you know their offering only the best from around Knoxville. The Oli Bea Chicken Biscuit is sure to be a highlight of your Knoxville visit.
Looking for a London experience in Knoxville? Crowne & Goose is Knoxville's most authentic London gastropub. They also feature a great beer garden that is a perfect break spot while waiting for the next band on your schedule to begin. This spot is perfect for Lunch or Dinner.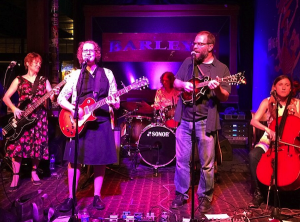 Barley's Taproom is another amazing restaurant that happens to be a Rhythm N' Blooms music venue. It also has one of the best slices of pizza in town. Stop in hear some amazing artists or head up stairs and enjoy darts, billiards and other fun games. Located right in the middle of the festival footprint, this is the perfect place to regroup and grab some food.
With arcade games, beer on tap, and the best hot dog you will find in town, you must find some time to stop in at The Curious Dog. It's located right across from The Jackson Terminal and is open fairly late. Stop in and grab a dog while you are making your way down Jackson Avenue.
---